More great news on the rides front: In West Hartford, Connecticut, last month the town council honored ITNCentralCT for giving their 14,000th ride, celebrating both the ridership milestone and the organization's ongoing commitment to ensuring mobility services for area seniors.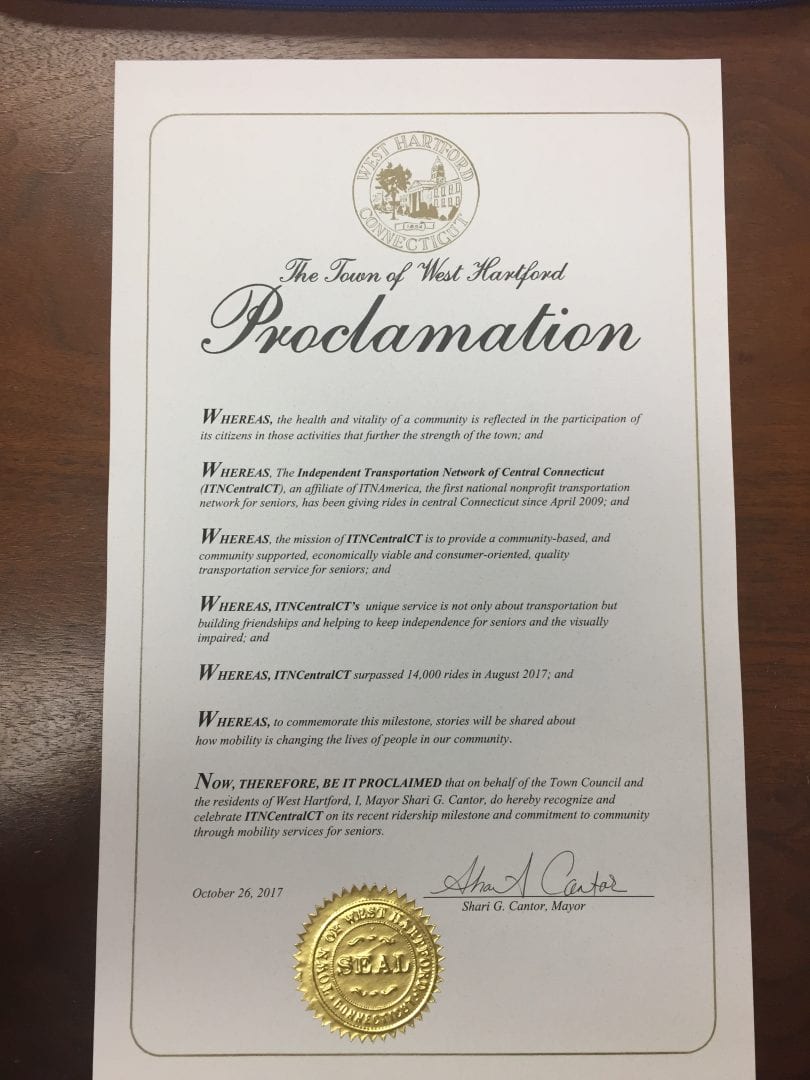 According to the West Hartford News, Mayor Shari Cantor presented a proclamation to ITNCentralCT at a 14,000 Rides Celebration event held at Atria Hamilton Heights in West Hartford. ITNCentralCT executive director Kevin Farmer was there to receive the award.
"The state of ITNCentralCT is good," Farmer said. "We have served the community for 8 1/2 years. We have engaged and committed volunteers and supporters, as well as satisfied riders and families."
He took the opportunity to reach out to potential future supporters. "Please consider us as you hear of neighbors and friends interested in volunteering," he said.
The West Hartford town council has been instrumental in ITNCentralCT's success. Former mayors Scott Slifka and Jonathan Harris started working with ITNAmerica in 2003, a collaboration that led to the creation of ITNCentralCT, which gave its first ride in April 2009. ITNCentralCT's headquarters sit inside West Hartford Town Hall, and the organization enjoys financial and volunteer support throughout its fifteen-town service area.
This is what ITNs do: They work with communities, partnering with local stakeholders to create opportunities aimed at making a difference for non-drivers. ITNs offer avenues for collaboration, making it possible to leverage volunteerism to ensure mobility for older people. In Central Connecticut this model has given 14,000 rides. What could it do in your community?